Crafty pursuits
So seeing as I boast of being creative (clue is in the title) I may as well get back in crafty mode. I flit between craft projects and currently have three on the go. Sadly, I'm not working on any of them right now. I thought posting a blog with photos would entice me to start back again. And it's working - tonight I shall watch trash (on TV, not in my bin) and knit away. Last week on holiday I bought myself this basket for all my wool.
It was the rainbow colours that tempted me, I'm a softy for multi-coloured products. I believe that penchant was inherited from my older sister who has always loved Joseph and his coat of many colours. (Andrew Lloyd Webber style "go go Joseph...")

I also bought this lovely duvet cover set.


All ready for chopping up and making into things. I'm not sure what things as of yet. The other side of the cover is a cute polka dot print.
Let's add that in addition to loving rainbow stuff, I'm also a sucker for polka dots.

So my knitting project for tonight is a lovely camisole top. I started it a few weeks ago and stopped after a few inches. The pattern is from 'Katie Knits' blog.(see my links) and is an easy knit yet so pretty.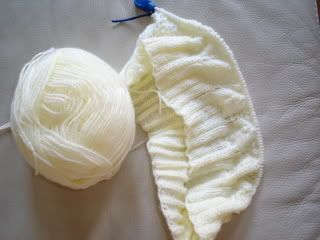 I'm off to get started before I get distracted by new projects that always seem to jump out at me, then loom in the background nagging me to finish them.